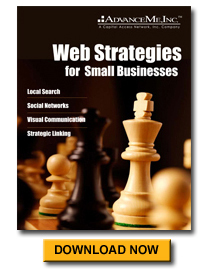 I was absolutely delighted to be included in a fantastic free eBook "Web Strategies for Small Businesses". The book is a compilation of small business tips focusing on multiple Internet strategies. I provided the "Building Web Success – Optimizing Online Conversions", but there's good stuff there too!
Getting Ahead on the Web – Strategies To Make More Of Your Time Online, featuring comments from Aaron Wall of SEO book.
Understanding the Basics of Local Search – Optimizing Your Local Business Listings with Vedran Tomic.
Should My Business be More Social Online? – The Role of Social Media in Your Small Business – Aaron Wall
Visual Communication through Web Design – Strategy and Psychology of Web Design with Melvin Ram from Web Design Company Net.
Strategic Linking for Success – 3 Things to Know About Linking from Debra Mastaler of Alliance-Link.
Drive Net-New Sales Revenue – Don't Overlook Paid Search Marketing by Geordie Carswell from PPC Blog.
The eBook is free for download to visitors of AdvanceMe.com, a leading merchant cash advance provider in the United States.