This morning Aaron Wall published Excuse Me, But Where Did Google's Organic Search Results Go? in which he shows that the organic listings for the term San Francisco Dentists has all but disappeared below the fold.
Curious as to the equivalent UK results I tried London dentist and saw a similar pattern. When I clicked through to the map results though I saw something I've never noticed before: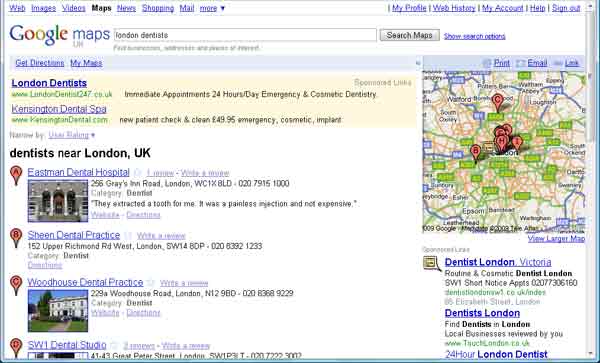 The first advert on the right contains a "mystery meat" icon that I can't quite decipher. Presumably it's supposed to be a building and has appeared because of the address featured in the advert's copy.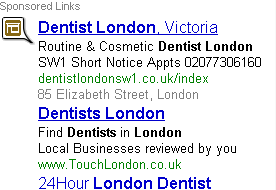 I'd never seen an icon that size before with adwords, so it grabbed my attention, and I apologise to the advertiser as I clicked on the icon wondering what it was! Perhaps this has been available in other markets for a while but this is the first time I've noticed anything so dramatic by Google in UK local search.